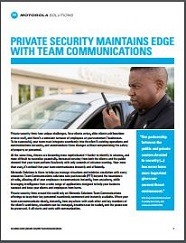 Are your security operations maximizing team communications? Private security firms around the world keep their key personnel seamlessly connected and instantly available with unified team communications. When your team can communicate clearly and instantly from any location, situations can be managed, breaches can be sealed, and the peace can be preserved. It all starts and ends with communication. With Motorola Solutions Team Communications offerings, workers can communicate securely anywhere and anytime via push-to-talk (PTT) between smartphones, radios, computers, landlines or any other devices. Augment PTT communications with a rich data application ecosystem for additional context and intelligence – like dispatch solutions, GPS tracking and WAVE™ PTT. Download this brief to explore intelligent team communications solutions that can help you:
Integrate seamlessly and safely into clients' operations and communications networks
Keep key personnel connected with instant team communications from anywhere
Connect two-way radios, smartphones, laptops, tablets and landlines into single radio talkgroups
Share mission-critical information in real-time with the right people, regardless of location or device
Leverage existing investments to keep teams safe, clients satisfied and unify team communications
Get actionable advice on how you can enhance safety for clients and employees, protect client property and boost efficiency – go now!