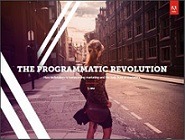 The world of advertising is more demanding than ever. Luckily, programmatic makes meeting those demands simple. Read The Programmatic Revolution: How Technology Is Transforming Marketing and the Daily Lives of Marketers to learn how quality data, transparency, and automation can turn programmatic advertising into your greatest tool for success.
Read our guide to learn how programmatic advertising helps you:
• Keep your data clean
• Create better strategic planning and analysis
• Make smarter decisions
Simply fill out the form to download the report.