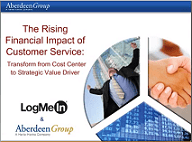 The role of customer service is one that is valued and well understood by many organizations. However, making the leap from correlating customer service activities with overall performance results to investing in strategies that deliver top-notch results is increasingly becoming a key differentiator.
Top performing businesses have long understood the financial ramifications of a satisfied and engaged customer and continue to act on developing a profitable model to engage, interact, and win with their key customers.
This webcast will highlight the financial link between better customer service and increased company profitability. It will also highlight several best practices that help organizations convert their service businesses from a cost center into a profit center.