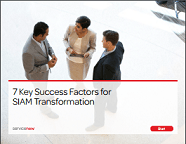 Get these key factors in place before implementation begins
Service Integration and Management (SIAM) is a significant initiative. And like all initiatives, the groundwork must be laid before success can be achieved. This white paper explores seven key factors for SIAM success, including:
• The importance of C‑level support
• How to prime your organization for change
• Ways to accelerate and de‑risk your SIAM program
Download the eBook to discover the most important components of SIAM success.