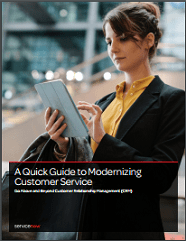 Frustrated by the limitations of CRM and reactive service? Discover a holistic new approach to delivering customer service that can help your business reach new heights of service excellence.
Despite best efforts, is your customer service team struggling to become::
• More efficient?
• More proactive?
• A strategic asset?
This whitepaper, A Quick Guide To Modernizing Customer Service, introduces Customer Service Management and explains how it can help you streamline service workflows, identify the root causes of problems, and transition from reactive to proactive service strategies.