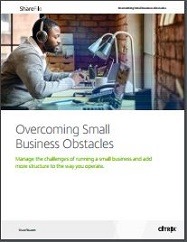 Too much demand on your time, the arrival of new technology and all that paperwork to fill out with not enough help. Sound familiar?
At Citrix ShareFile, we know from engaging with thousands of small business owners every day that you face the same obstacles as large businesses. You wonder how you can overcome the challenges of running a business while positioning yourself as a company on the move.
Running a successful small business comes through having a strong structure that purposefully arranges things in a specific way. This structure will not only allow a business to evade obstacles, but also position it for growth. Here are four areas of a business where structure can have the biggest impact.