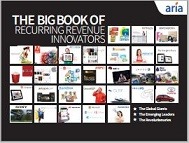 This first-of-its-kind e-book on Recurring Revenue Innovators showcases 29 real-world examples of smart businesses that have boldly exploited recurring revenue business models to expand markets, boost sales, and reap greater profits.
These daring recurring revenue innovators, many in the Fortune 1000, offer inspiring case studies on how to use recurring revenue models in new, innovative, and impactful ways. These cutting-edge companies are using recurring revenue to disrupt their markets or carve out new ones.
You will find familiar names like Amazon, United Airlines and ESPN, under-the-radar surprises like Ingersoll Rand's Nexia home automation service and Philips' Community Without Walls, unexpected upstarts like BarkBox and Entitle, and market disruptors like Stitch Fix and Blue Apron.
You'll learn about the Birchbox-led phenomenon of subscription boxes where subscribers pay for a monthly dose of surprises (cosmetics samples, women's shoes, healthy snacks or marijuana paraphernalia). You'll learn how "recurring revenue" reaches beyond subscriptions to include pay-per-use, freemium, and subscription-plus-usage models.
Why the rush to recurring revenue? What makes it the new darling of business growth strategies? Unlike the standard one-off model of selling once and hoping for later, recurring revenue businesses sell once, build a relationship and, if done right, collect month after month. Software firm Adobe turned Creative Suite, its largest revenue generator, into a subscription product and earned Wall Street kudos. Publicly traded Red Hat gets 87% of its revenue from subscriptions.
The Recurring Revenue Innovators e-book is brought to you by a diverse team of practitioners, consultants and suppliers: Aria Systems, which provides recurring revenue management; The FactPoint Group, a Silicon Valley market research firm; and Bob Harden, an independent consultant who had previously led software implementations.