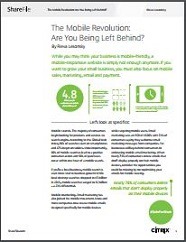 While you may think your business is mobile-friendly, a mobile-responsive website is simply not enough anymore. If you want to grow your small business, you must also focus on mobile sales, marketing, email and payment. In this webinar brief, Rieva Lesonsky explains:
• Why mobile search is vital to business growth.
• How mobile optimized emails impact consumer behavior.
• What customers expect for mobile commerce.