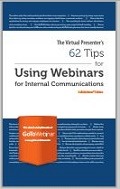 With just a few clicks of the mouse, webinars get you in front of the people you need to reach. But are you maximizing the full potential of your webinar tools?
"Using webinars to spread information inside your organization will save money, save time, improve the speed of knowledge transfer and help employees feel connected to your vision and mission."
This eBook by Roger Courville, author of The Virtual Presenter's Handbook, identifies 62 ways to improve the effectiveness of your internal webinars.