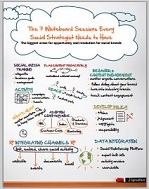 The 7 Whiteboard Sessions Every Social Strategist Needs to Have
Anyone working in social media knows things in this industry are constantly changing – from new strategies to new technologies to new platforms. It can be hard for social media practitioners and companies to stay ahead of the curve, particularly as enterprises, brands and agencies look to expand and scale their social media efforts across the organization to make social business a reality.
Here at Spredfast, we've spent time talking with customers, partners and industry leaders from organizations such as Altimeter Group, Edelman Digital, MarketingProfs and Social Media Explorer to identify the biggest areas of opportunity in social media for enterprises and agencies. In this whitepaper, the top 7 whiteboard sessions that all social media practitioners and organizations should be thinking about are discussed to help businesses continue to grow and thrive their social media programs throughout the year.