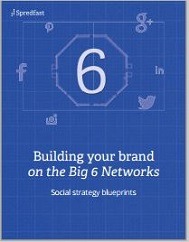 The Big 6 social networks offer tremendous marketing opportunities — and each one is very different. That's why Spredfast has assembled our 6 Blueprints for Social Network Success. In one quick-read collection, you'll discover constructive, actionable marketing tips for Facebook, LinkedIn, Google+, Twitter, Instagram and Pinterest.
These Blueprints are packed with more than 50 useful insights and real-world examples from major brands like Hyatt, British Airways, Target, and General Mills.
If you're ready to build your brand's relevance on the Big 6 social networks, download your copy today!