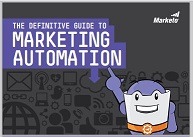 Looking to do better marketing with fewer resources? Our new Definitive Guide to Marketing Automation will show you how you can streamline, automate, and measure marketing tasks so efficiently that you'll feel like you have an army of marketers at your disposal.
You'll learn:
– How marketing automation differs from CRM and email marketing tools
– The common features and advanced functions of marketing automation tools
– How to build a business case and convince internal stakeholders to act
– How to successfully implement a marketing automation platform
Find out how you can get your company on board with the future of marketing solutions. Download the Definitive Guide to Marketing Automation now.