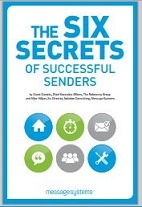 Whether it's bad subject lines, unattractive offers or technical issues at the root of your problems, if your email's not performing as it should, you will fall short of your business objectives.
It doesn't have to be this way. The Six Secrets of Successful Senders provides a framework for your overall approach to effective email marketing and customer communication programs. These six factors are the common attributes of the world's most effective email marketers, the principles guiding the approach to their craft.
Download our free guide to learn:
• How going on-premise maximizes email marketing results.
• How to prevent your email from being one of the 25% that never makes it to the inbox.
• The three pillars of deliverability: watching what you say, who you are saying it to and saying it right.