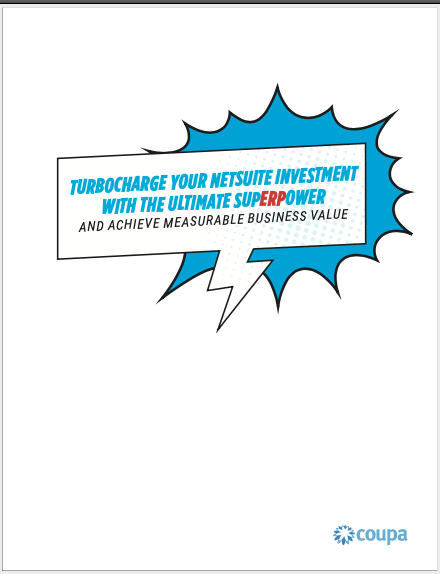 9 Reasons Coupa Makes Sense for NetSuite Customers
What do you get when you integrate the number one cloud ERP solution with the number one cloud procure-to-pay solution? Mobility, ease of use, the fastest time to value, the lowest total cost of ownership, the highest levels of user adoption and incredible levels of spend under management.
Adding Coupa to your NetSuite ERP is the fastest, easiest way to unleash real business value – or SUPERPOWERS – that you never knew existed.
Download the white paper, Turbocharge Your NetSuite Investment with the Ultimate Superpower, to learn how Coupa can help extend the value of your NetSuite investment by:
X-Ray Visibility: The more you can see, the more you can benefit
Digitized Business: Data to the rescue
Built-In Compliance: Shield yourself from risk
Real-Time Agility: Leap business obstacles in a single bound
Adoption By All: Make everyone on your team a hero
Mobile Everywhere: It's a bird, it's a plane – it's business power taking flight
Hyper-Connected Network: Spin a web of value
Business Value: Deploy faster than a speeding bullet
Supercharged Spending: Get more value from every dollar