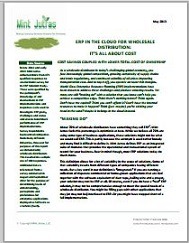 Get this latest report from analyst firm Mint Jutras on how the cloud is changing the ERP cost equation for wholesale distributors. Drawing on a survey of 475 organizations, Mint Jutras outlines how leading wholesalers are reducing TCO, eliminating upgrade issues and achieving competitive advantage by transitioning from on-premise applications.
This informative paper, ERP in the Cloud for Wholesale Distribution: It's All About Cost, details:
• The challenges of "making do" with your current software
• Assessing your true costs in operations, administration and inventory
• Achieving double-digit cost reductions with world-class ERP
• Improving delivery and cycle times, customer retention and profitability
• The cost of doing nothing from a cost and opportunity perspective.
Download this report and learn more.