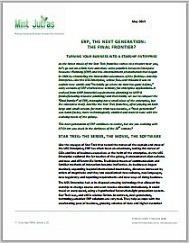 Is your ERP system stuck in the 20th century? Get this latest report from analyst firm Mint Jutras on how next-generation ERP systems are giving modern distributors a competitive edge that powers innovation and cost-efficiency.
This informative paper, ERP, the Next Generation: The Final Frontier?, details advancements in ERP systems and covers:
• The new basics for today's ERP systems
• Simplified access and intuitive ease of use in next-generation ERP
• How customization has changed and the differences between customizing and configuring
• Why you need next-generation ERP to take your business into the 21st century.
Download this report and learn more.