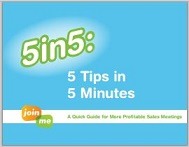 Unproductive sales meetings aren't a good use of your time, or your prospect's. But all you need are five minutes to learn how to make your sales meetings more productive, engaging and profitable.
Sponsored by join.me, the instant online meeting app, this eBook offers practical tips on how to:
• Keep your clients and prospects engaged
• Boost meeting productivity
• Sell smarter and faster
Download and read this free eBook today, and then share it with the rest of your sales team so everyone can have more productive and profitable meetings in no time.