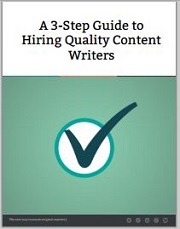 Without good writers, a business can't have the ammunition to communicate their goals, beliefs, successes and more to
prospects through content. Hiring great content writers isn't always easy though — there's a process, and it's a mix between
being at the right stage of your content strategy and asking interviewees the hard questions. In this eBook, you'll learn how to find your audience, establish your content goals and how to interview writers in the hiring process.