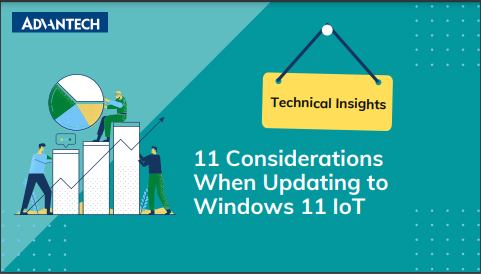 Windows 11 IoT Enterprise is the next evolution of Windows for IoT and offers many innovations focused on enhancing end-user experiences. Designed to support todays hybrid world, Windows 11 IoT is intended to be the most reliable, secure, connected, and performant Windows operating system ever.
Many organizations are considering installing Windows 11 IoT on industrial application devices but remain unsure about how to maximize its new functions or whether their devices support it. This has led to many questions, including:
• What new features does Windows 11 IoT offer, and what are its limitations?
• What kind of testing has been completed and what should device builders and OEMs know about this latest offering?
Advantech has conducted end-to-end testing on its own IPC platforms with Windows 11 IoT, in an effort to answer these questions. This White Paper summarizes 6 x test reports and discusses 5 x key points that should be considered before adopting Windows 11 IoT.
Read on for more on Windows 11 IOT Enterprise.