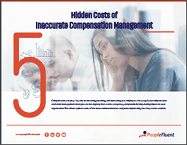 Developing a comprehensive, equitable, and competitive compensation strategy isn't easy. Your organization puts a tremendous amount of effort into getting this right and, when managed properly, can play a significant role in creating an environment that keeps top performers focused, motivated, and feeling appreciated.
Getting it wrong, however, can be costlier than you think.
To help you avoid compensation planning missteps, PeopleFluent created "The Five Hidden Costs of Inaccurate Compensation Management," a handy guide to help you identify – and avoid – some of the most common errors. Download now.