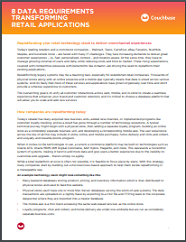 Today's leading retailers and e-commerce companies – Walmart, Tesco, Carrefour, eBay, Fanatics, StubHub, Staples, and hundreds more – are faced with many IT challenges. They face increasing demands to deliver great customer experiences – i.e., fast, personalized, context – and location-aware. At the same time, they have to manage growing volumes of users and data, while reducing costs and time to market. These rising expectations, coupled with competitive pressures with behemoths like Amazon, are driving the need to replatform their existing applications.
Replatforming legacy systems may be a daunting task, especially for established retail companies. Thousands of physical stores along with an online presence and a mobile app typically means that data is siloed across various systems. And it's likely that most of these services and applications have grown organically over time and don't provide a cohesive experience to customers.
The overarching goal is to unify all customer interactions across web, mobile, and in-store to create a seamless experience that enhances your brand and customer retention, and it's critical to choose a database platform that will allow you to scale and add new services.