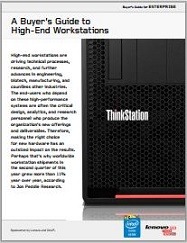 Don't upgrade your CAD and engineering software without also considering a computer upgrade.
Today's advanced software demands the power of state-of-the-art, professional-grade workstations to optimize performance and productivity. But, how do you configure a new workstation to meet software demands?
This buyer's guide, sponsored by Lenovo® and Intel®, provides the answers, including:
• Choosing best-in-breed hardware like Intel® Xeon® processors
• A practical review of the increasing demands that constantly evolving software places on computing hardware and how to plan for future needs
• Understanding supported and recommended hardware configurations from a variety of popular CAD and engineering software developers, including Autodesk, Dassault Systemes, and ANSYS
• Common end-user questions and concerns about optimizing workstation configurations
• Other buying tips and advice for end-users, managers, and IT personnel
Your organization needs the latest, most robust workstations available to get the most from compute-intensive software.
Get the facts. Download this buyer's guide today and learn why professional workstations are key to optimizing today's advanced software, as well as how you can configure new workstations to maximize return on investment.