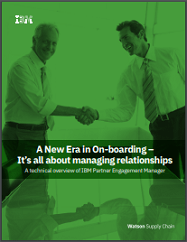 The state of on-boarding today:
Many companies have a complex mix of trading partners with which they do business. They often times have large, cross functional teams of personnel involved in their onboarding process; ranging from IT staff, to Supplier / Customer Relationship Managers, to legal and administrative staff.
This large mix of external partners and internal staff, exchanging administrative and technical connectivity information that's routinely changing is a challenging, burdensome and inherently slow process, with little or no enterprise visibility into the state of each partner's onboarding journey. So on-boarding each one and the documents that get exchanged and managing the relationships on an on-going basis can be challenging, especially when relying on a largely manual process.