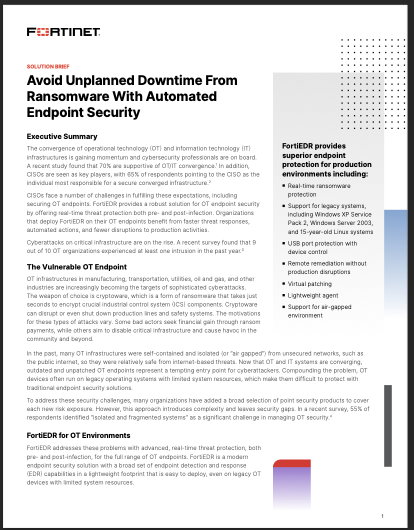 The convergence of operational technology (OT) and information technology (IT) infrastructures is gaining momentum and cybersecurity professionals are on board. A recent study found that 70% are supportive of OT/IT convergence. In addition, CISOs are seen as key players, with 65% of respondents pointing to the CISO as the individual most responsible for a secure converged infrastructure.
CISOs face a number of challenges in fulfilling these expectations, including securing OT endpoints. FortiEDR provides a robust solution for OT endpoint security by offering real-time threat protection both pre- and post-infection. Organizations that deploy FortiEDR on their OT endpoints benefit from faster threat responses, automated actions, and fewer disruptions to production activities.
FortiEDR provides detailed information on threats to support forensics investigation. Its unique interface provides helpful guidance and best practices and suggests the next logical steps for security analysts.