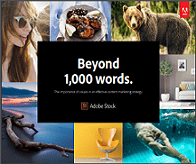 First impressions matter. In fact, research shows that people form a first impression in 50 milliseconds.1 As many as 81 percent of people only skim the content they consume online—and read only 20 to 28 percent of words on each visit.
With more and more competition for our increasingly short attention spans, it's no wonder we're seeing reliance on visuals as the leading form of communication across the web.
Even the most well-thought-out ideas and well-written content will get lost in the shuffle if the visual elements aren't equally compelling—or don't communicate the right message. That's why the imagery you choose should be as strategic as the written message behind it. It's not enough to settle for the first applicable image you find in your stock library—you need to ensure every image is on brand and conveys the right idea.
Here are a few ways to use imagery to meet your brand's content marketing objectives.