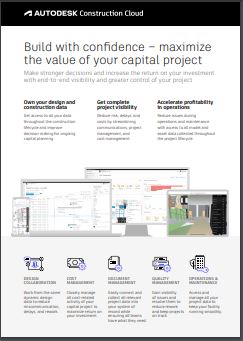 Make stronger decisions and increase the return on your investment with end-to-end visibility and greater control of your project.
Own your design and construction data
Get access to all your data throughout the construction lifecycle and improve decision making for ongoing capital planning.
Get complete project visibility
Reduce risk, delays, and costs by streamlining communications, project management, and cost management.
Accelerate profitability in operations
Reduce issues during operations and maintenance with access to all model and asset data collected throughout the project lifecycle.