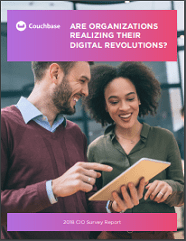 In the new age of the massively interactive enterprise, the digital revolution isn't just moving ahead – it's picking up steam. According to 85% of digital decision-makers, disruption has accelerated in their industry over the past year. And 37% say the pace of change is rapid.
So, who's taking the lead in this revolution? Who's falling behind? What technology enables innovation, or stands in the way? And what's at risk if your company doesn't keep up.
To find the answers, we surveyed 450 heads of digital transformation, such as CIOs, CDOs, and CTOs:
• 98% agreed the ultimate aim of digital innovation should be to give customers and end users unique experiences
• 53% said they are less than halfway to achieving their transformation goals
• 88% reported projects being cancelled or hindered because of legacy database limitations
• 43% said the complexity of using multiple technologies limits the use of data for new digital services
• 87% said they have to scale back new applications so they'll work with IoT or mobile devices
What happens if your organization doesn't keep pace with innovation? Almost two-thirds of respondents believe it will go out of business or be absorbed by a competitor in 4 years or less.
On the flip side, those enterprises that have adopted the right technology for today's demanding web, mobile, and IoT applications have not only enhanced customer experiences, but have also increased worker productivity (65%), improved business end-user experience (65%), improved compliance (69%), and increased expansion into new regions (62%).
The report includes complete survey results and analysis along with unique insights into choosing the best technology for your company's digital revolution.