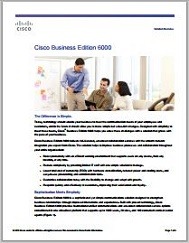 Today, technology should enable your business to meet the communication needs of your employees and customers, and in the future it should allow you to make simple but value-rich changes. Designed with simplicity to meet these needs, Cisco® Business Edition 6000 helps you solve these challenges with a solution that grows with the pace of your business.
Cisco Business Edition 6000 delivers full-featured, advanced collaboration services with the smooth network integration you expect from Cisco. The solution helps to improve business processes and collaboration throughout your entire organization:
• Boost productivity with an efficient working environment that supports users on any device, from any location, at any time.
• Reduce complexity by providing limited IT staff with one simple solution to manage.
• Lower total cost of ownership (TCO) with hardware consolidation, reduced power and cooling costs, and easy-to-use provisioning and administration tools.
• Customize collaboration today with the flexibility to change and adapt with growth.
• Respond quickly and effectively to customers, improving their satisfaction and loyalty.