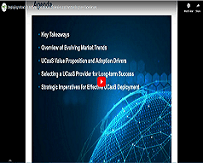 For companies today, standing still in the midst of pervasive transformation presents real danger. It's become more and more important to leverage technology to compete more effectively. Advanced digital technologies deliver cost-efficiencies and productivity benefits and the solutions in the cloud are the ones that are accelerating technology adoption and reducing technology obsolescence risks. It's the cloud communications providers who excel in service functionality, quality, reliability, total cost and market reach that are the ones helping companies to meet their key performance indicators (KPIs) and ensuring greater business outcomes.
What attendees will learn:
• Evolving UCaas Market Trends
• The UCaaS Value Proposition and Adoption Drivers
• How to Select a UCaaS Provider for Long-term Success
• Strategic Imperatives for Effective UCaaS Deployment
And learn how John Varvatos, American contemporary menswear designer, supports their company's employees in being as productive as possible and with an entirely cloud-based IT environment. With it they support international calling and meetings between the John Varvatos main office in New York City, its flagship store in London, and its showroom in Milan, all while saving money.