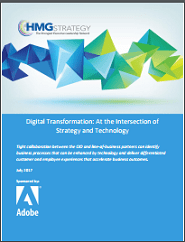 Being late to the game isn't an option for companies that hope to survive. "If you don't move ahead with digital transformation, you're going to be left behind," said Dan Puterbaugh, Senior Legal Advocate for Adobe Document Cloud at Adobe. Read the HMG Strategy guide, "Digital Transformation: At the Intersection of Strategy and Technology" to find out:
• Why successful digital strategies result from close collaboration between LOB leaders and CIOs.
• Why CIOs are uniquely positioned to guide digital transformation initiatives and align digital strategy with business goals.
• How one small step for digital documents can result in a giant leap for digital transformation by accelerating employee productivity and delivering frictionless customer experiences.
• Examples of digital maturity leaders that are optimizing business processes, delivering re-imagined customer experiences, and accelerating business performance.