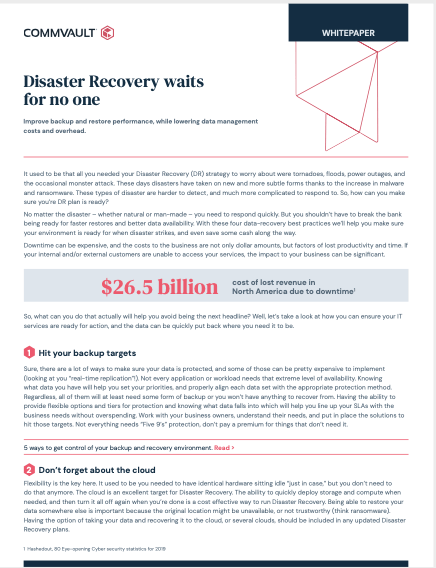 It used to be that all you needed your Disaster Recovery (DR) strategy to worry about were tornadoes, floods, power outages and the occasional monster attack. These days disasters have taken on new and more subtle forms thanks to the increase in malware and ransomware. These types of disaster are harder to detect and much more complicated to respond to.
So how can you make sure you're DR plan is ready? No matter the disaster – whether natural or man-made – you need to respond quickly. But you shouldn't have to break the bank being ready for faster restores and better data availability. With these four data-recovery best practices, we'll help you make sure your environment is ready for when disaster strikes, and even save some cash along the way. Downtime can be expensive and the costs to the business are not only dollar amounts but factors of lost productivity and time. If your internal and/or external customers are unable to access your services, the impact to your business can be significant.
So what can you do that actually will help you avoid being the next headline? Well, let's take a look at how you can ensure your IT services are ready for action and the data can be quickly put back where you need it to be.