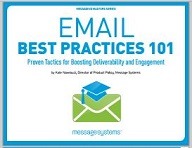 Boosting your inbox rates begins with an understanding of how your tactics in several key areas can affect deliverability. Read on to learn how to improve the ROI of your email operations by applying Email 101 best practices.
Download our free E-Book to learn:
• What's at stake when it comes to the dollars and sense of deliverability.
• How to build and maintain a good reputation through segregation, bounce management and preference-aware messaging.
• How technical capabilities can play a crucial role in deliverability and what to do about it.