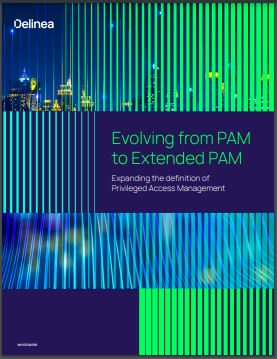 Just as security is shifting left in the development process and becoming more agile, Privileged Access Management (PAM) is evolving to meet new security challenges and operational expectations.
Extended Privileged Access Management (XPM) redefines PAM to treat all users as privileged users and address complex IT environments. It ensures scalability by treating identity as the common thread for authentication and applying policy-based authorization controls to meet zero trust and least privilege best practices.
XPM™ is rooted in the foundation of PAM and addresses the new era of hybrid IT environments, cloud-based applications, and remote work. With XPM, you can better understand, manage, and visualize privileged access across your entire environment.
A key facet of XPM involves establishing controls to prevent bad actors from moving laterally and escalating privileges, making privileged access more intelligent. Analytics-informed policies assess changing conditions and adapt access where and when necessary, saving your IT and security departments time managing access while improving security.
See why XPM is a game-changer for your PAM strategy.
Download the whitepaper to learn:
• The differences between traditional PAM and XPM
• Why sticking with the old PAM mindset and toolset increases your risk and hinders your growth
• Tips to easily integrate XPM into your workflow and organization