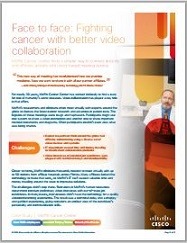 For nearly 30 years, Moftt Cancer Center has worked tirelessly to find a cure for one of humanity's worst diseases. Video collaboration has played a key role in that effort.
Moftt's researchers and clinicians often meet virtually with experts around the globe to discuss the latest cancer research and advances in patient care. The logistics of those meetings were tough and
haphazard. Participants might use one system to share a video connection and another one to share important medical documents and diagrams. Often participants couldn't even view what was being shared.
Closer to home, Moftt clinicians frequently needed to meet virtually with up to 50 doctors from afliate hospitals across Florida. Many affiliates lacked the technology to make that work, so Moftt's IT staff wasted valuable time and money traveling around the state to improvise solutions.
The challenges didn't stop there. Recruiters in Moftt's human resources department conduct preliminary video interviews with out-of-state job candidates. In many cases, interviewees didn't have the technology for a quality videoconferencing experience. The result was a technical delay and a choppy and garbled experience, giving recruiters an unclear view of the candidate's personality and communication skills.