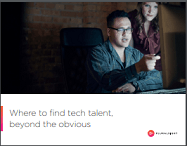 Finding technical talent can be a daunting and challenging task. It used to be that you could find it in obvious places, but the growing demand for these candidates at almost any skill level has made it feel like there is a shortage. And if you do manage to find qualified people, they're often already engaged and happy where they are.
I've used various resources to gather the ideas, strategies and tactics presented here, including learnings from some of the top recruiting experts in the field, but the caveat is this: No method is foolproof.
The culture or size of your company can have an impact on your results, as can the area you are recruiting in and types of projects you are recruiting for. Sheltered in-house IT projects might not have the same attraction as highly visible products, newfangled apps or change-the-world systems.
Also, how your company is perceived among prospective employees, as well as the reputation of your managers and owners, could mean that you have to be a lot more tactful or aggressive as you work on wooing talent. Let's explore what this might mean for you.