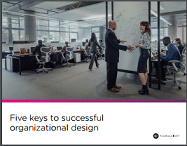 Welcome to the era where one startup rapidly and completely changes an entire industry. Airbnb and Lyft are two popular examples, and now travel and transit will never be the same.
Across every industry, technology that makes our lives easier and more automated is developed at breakneck speed. And with artificial intelligence and big data analytics rapidly maturing, we're poised to enter another phase of great disruption.
Who's at the helm of these highly innovative companies that make radical and lasting change? Technology leaders that embody a strategic new creed: be bold.