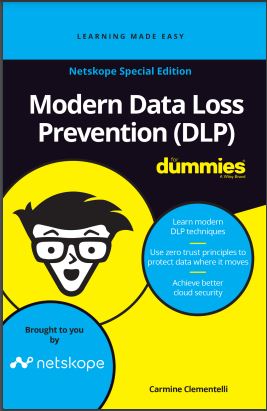 Learn how to transition to an advanced cloud-delivered DLP
In today's hybrid work environment, data is everywhere and is growing in volume and variety at an unprecedented velocity. A modern data loss prevention (DLP) strategy must rely on technology that is built in the cloud to protect sensitive data anywhere it goes. It must keep up with the rapid data sprawl with a high degree of precision, and keep your organization compliant with the most stringent data privacy laws, all while enabling business productivity without costing you time, performance, or money.
Good DLP doesn't have to be complicated—or costly. That's why we wrote Modern DLP for Dummies, a new book that examines important data protection techniques and provides a roadmap for your transition to fully modern, cloud-delivered DLP.
What you'll learn:
• A brief history of DLP and why cloud-delivered DLP, built with hybrid work needs in mind, is the right solution for you today
• How to protect your entire, cloud-centric enterprise
• How to apply zero trust security principles in modern DLP
• Key differentiators in the award-winning Netskope platform, highlighted by customers and top global analysts as a world-class modern DLP solution