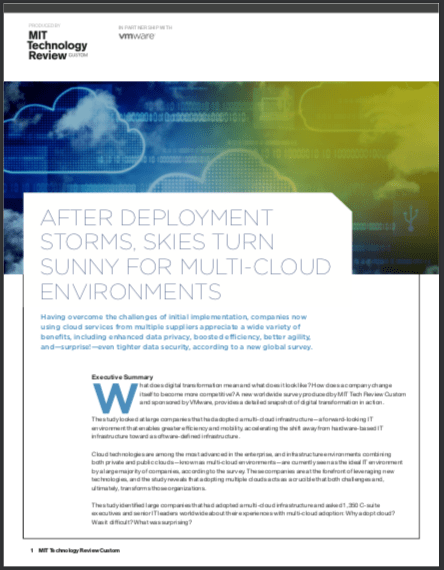 What does digital transformation mean and what does it look like? How does a company change itself to become more competitive? This new worldwide survey produced by MIT Tech Review Custom and sponsored by VMware, provides a detailed snapshot of digital transformation in action.
The study identified large companies that had adopted a multi-cloud infrastructure, and asked 1,350 C-suite executives and senior IT leaders worldwide about their experiences with multi-cloud adoption. Learn more in this study.
A hybrid cloud strategy empowers businesses with a "no-compromise" approach for an optimal mix of best-in-class on-premises and public cloud services. VMware and Intel deliver solutions that enable IT organizations to confidently integrate public clouds into their IT strategy to take full advantage of the hybrid cloud.
___

VMworld isn't just another IT event – it's your discovery powerhouse. The more you know, the bigger your impact. VMworld gives you the information, tools, and partnerships you need to solve today and tomorrow's cloud-based challenges. Register now for VMworld 2019 to advance your knowledge, explore tech's next wave, and build new connections. Register Now!