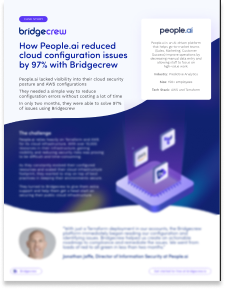 People.ai relies heavily on Terraform and AWS for its cloud infrastructure. With over 10,000 resources in their infrastructure, gaining visibility and reducing security risks was proving to be difficult and time-consuming.
As they constantly evolved their configured resources and scaled their cloud infrastructure footprint, they wanted to stay on top of best practices in keeping their environments secure.
Download this case study to learn how People.ai drastically reduced configuration issues and increased confidence in production data safety with Bridgecrew as a key partner.