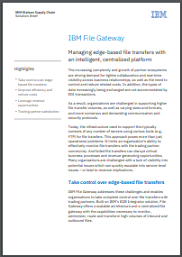 Learn which capabilities are critical for overcoming today's B2B integration challenges and supporting future growth.
B2B integration is critical to the operations of many organizations. However, many are struggling with outdated B2B system capabilities, redundant technologies, complex and lengthy onboarding processes, lack of visibility, and the inability to adapt to rapidly-changing requirements.
In order to overcome these challenges and support future growth, organizations must invest in modernizing their B2B strategy and supporting technologies.
If you're evaluating options for modernizing your organization's B2B architecture, you may have many questions on your mind. For example, which capabilities are most critical to put in place now? What are the important considerations for your B2B strategy going forward? What solutions are available to help you?
Download this ebook to learn about:
• The advantages of operating a single, scalable and secure B2B integration gateway
• Simplifying trading partner onboarding and management
• The importance of high availability business operations and disaster recovery
• Adaptable capabilities to help react to changes to your business processes
• The value of visibility and analytics that provide actionable insight
• Supporting a mix of cloud and on-premise deployment options.