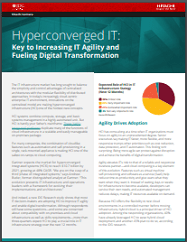 Hyperconverged infrastructure is now a priority over aspects such as cost reduction, data protection and IT automation. It helps organizations focus on agility and making IT faster, more flexible and more responsive.
IDG's survey indicates:
• 52% of respondents say that infrastructure automation, provisioning and management are the top drivers for hyperconverged adoption.
• 66% of respondents place scalability among the top benefits of hybrid cloud deployments, while 49% say improved security and control are the biggest benefits.
See how your industry peers rate the factors that drive adoption and prioritization of hyperconverged IT in this IDG summary.