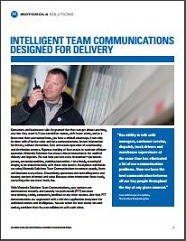 Struggling to speed up delivery and drive down transportation & logistics costs? Sharpen your competitive edge with instant team communications and boost operations, safety and productivity on the road, in the warehouse and front office. With Motorola Solutions Team Communications, workers can communicate instantly and securely via push-to-talk (PTT) between smartphones, radios, computers, landlines or any other devices. Augment PTT communications with a rich data application ecosystem for additional context and intelligence – like dispatch solutions, alarm management, work order ticket management and WAVE™ PTT. Download this brief to explore intelligent team communications solutions designed to meet the demands of delivery and logistics. Get insights and strategies that will help you:
Streamline operations and control costs
Keep workers informed and safer
Improve team collaboration seamlessly across all devices
Pick up speed via instant, secure, push-to-talk connectivity
Drive productivity on the road, in the warehouse and at the front office
Get actionable advice on how you can streamline operations, control costs and deliver on customer promises – go now!