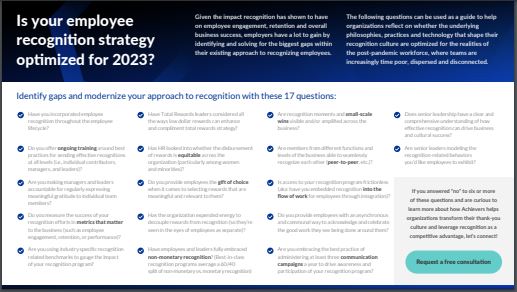 It's well established that when employers get employee recognition right, they tend to have more engaged employees who are less stressed and more loyal, but the HR
function continues to bear the burden of establishing and maintaining cross functional buy-in and support for recognition initiatives, often with limited budget and technology.
To help HR and business leaders identify and reflect on potential blind spots which may be hindering recognition success, the Workforce Institute, the research and insights arm of Achievers, developed a checklist of 17 questions that you can use to help optimize your employee recognition strategy in 2023.
Each question represents a key area, underscored by research, for optimizing and modernizing workplace gratitude during times of heightened uncertainty and
disconnection.