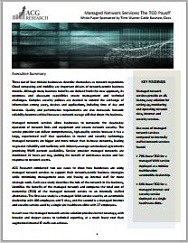 Three out of four midsize businesses describe themselves as network dependent. While network-based business solutions can enhance productivity, market velocity and customer relationships, concerns about operating complexity, reliability and security challenge IT professionals at midsized companies.
To gain the benefits of advanced networking and minimize the operating risks, companies are increasingly turning to managed network service solutions. The approach offers an all-in-one, easy solution for setting up, monitoring and operating network data, Internet and security services.
ACG Research conducted two use cases that find managed network services pay off by delivering a superior total cost of ownership (TCO) than an internally staffed alternative.