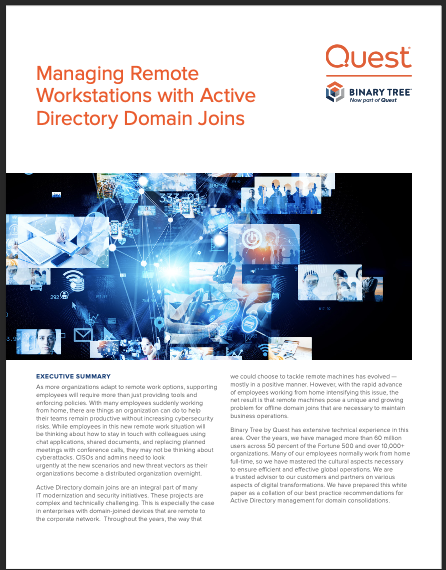 Active Directory domain joins are an integral part of many IT modernization and security initiatives. These projects are complex and technically challenging. This is especially the case in enterprises with domain-joined devices that are remote to the corporate network. Recently, with the rapid advance of employees working from home intensifying this issue, the net result is that remote machines pose a unique and growing problem for offline domain joins that are necessary to maintain business operations.
We have prepared this white paper as a collation of our best practice recommendations for Active Directory management for domain consolidations. It will provide you with an understanding of the challenges and best practices for joining remote workstations to a new Active Directory domain.
You'll gain insights into.
• The impact of the recent growth in remote work
• The problem of migrating AD with remote workstations
• How to achieve an end-to-end offline domain join process
• Solutions for resolving the key issues of the ODJ process
Download this white paper to understand how you can properly join remote workstations to a new Active Directory domain.