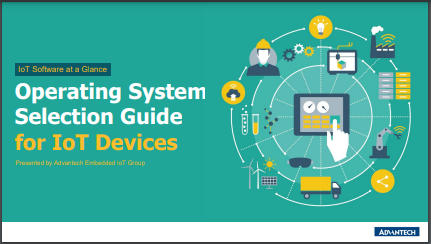 An Operating System (OS) is at the heart of IoT solutions. The Operating Systems that control IoT devices are not nearly the same as typical desktop operating systems, but instead are designed to work reliably based on specific IoT use case requirements. These embedded operating systems that are designed to perform under the constraints of limited memory and processing power of small IoT devices and are built for low resource utilization, remote data management, cellular connectivity with constraints related to size, memory, power, and processing capacity.
If you are an IoT device manufacturer, you must make sure that you choose the right IoT operating system for your devices. Since there is no one-size-fits-all, it is important to prioritize those OS features that are most relevant for your specific IoT applications. By choosing the right IoT-OS, users will be able to set up IoT devices, which will be able to operate in any situation.
This guidebook, developed by Advantech, will help you with things to consider when choosing an IoT OS. Read on.