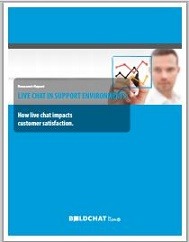 Based on a primary research effort with more than three hundred companies who are active BoldChat customers, this report takes a close look at how live chat is used and measured in support settings.
This report, inspired in part by recently released data from Ovum, had the following goals:
• To understand how organizations are using live chat to engage with prospects and customers.
• Investigate what metrics are important to organizations using live chat for support engagements.
• Learn why they believe live chat helps them to achieve their business goals.
The report concludes that customer satisfaction is the most important metric in use today, live chat can have a positive influence on satisfaction, certain live chant features contribute to a firm's ability to achieve high levels of satisfaction, and that maintaining these levels will become increasingly challenging as customers request support through an increasing number of channels.