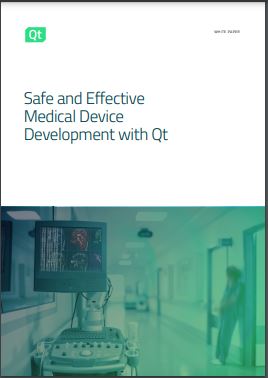 Time, resources and cost. These key factors can keep any C-Level executive, vice president, project or program manager up at night when considering the go-to-market strategy of their medical devices. This whitepaper explains how Qt not only reduces your total costs of ownership (TCO) and time-to-market, but also effortlessly scales to any type of hardware you are developing upon.
You will learn about Qt's core functionalities and its widely used key product add-ons for medical device manufacturers, among which Qt's design and quality assurance tools. You'll receive a comprehensive product security overview and see how Qt fits and supports the medical regulatory environment.

Finally, you will find out how Qt has positioned itself as a medical thought leader, influencing the future of the medical device industry as a member of industry professional organizations and participant in various medical device working groups.