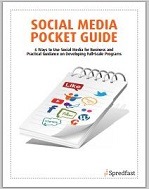 6 Ways to Use Social Media for Business
In this age of social business, customers want and expect to communicate with your brand on social media. And now is a better time than ever to engage with your customers on the channels they are talking on. But success on social doesn't happen overnight. It takes strategy and planning to build a successful social media program.
The Social Media Pocket Guide, a 40-page whitepaper, outlines the top six business objectives companies should incorporate into the core of their social strategy. The guide provides proven success tactics, content templates, and measurement methods for the top six social business objectives.