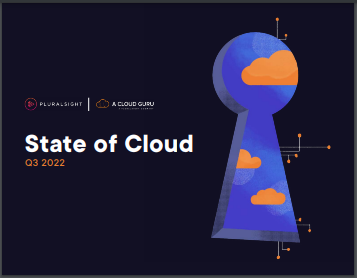 Disconnect Between Cloud Technologists and Business Leaders
Findings of this report reveal a disconnect between organizational and individual cloud maturity. Business leaders reported high confidence in their organizations' cloud strategies while individual contributors report feeling new to cloud technologies.
Despite employee skills gaps, growing cloud skills internally was not one of the top strategies business leaders used for reaching organizational cloud maturity. Only 37% of organizations use internal cloud upskilling as a key strategy for cloud maturity. However, cloud skills gaps rank as the second largest cloud maturity challenge, with 43% of organizations agreeing that cloud skills gaps in their organizations affect cloud maturity. Challenges arise when trying to balance organizational and individual needs for learning, as individuals desire personal enrichment and career advancement from training (46%), while leaders value outcomes that identify vulnerabilities (30%) and cost optimization (28%).
In order to achieve cloud goals like higher levels of cloud maturity, increased cloud security, and cost optimization, organizations need to be creators of cloud talent. Cloud technology is fairly ubiquitous, with 46% of leaders overseeing one or more technical teams that work directly with cloud technology. Upskilling cloud proficiency should be a top priority, as most technologists are still new to cloud technology and are looking to improve their fluency.
Pluralsight's State of Cloud report can be found here.